During the University Scholars Leadership Symposium, all 907 delegates from over 70 different countries were separated into various "Service Learning Projects." These projects consisted of roughly 40 delegates for each project, and services were geared towards a category of humanitarian affairs. The Service Learning Project I participated in was titled "Sustainable Tourism."
All 40 delegates who signed up for the Sustainable Tourism project boarded a bus and departed from the hotel at 7:45am. By 9am we arrived at "Ban Ten Ram," a ballroom dance hall that was established in the 1960s.
This once lively ballroom dance hall is currently in a state of decay. This place is in a low-income area, surrounded by the buzzing outskirts of Bangkok and a Chinese immigrant neighborhood. This historical dance center resides in a temple village, and about 36 Thai locals call this village home.
Decades ago, before development overtook this village, locals used to come to this very location at night to drink, dance, and play cards. The police would break up the party around 2am and the locals would escape by running across clay roof tops.
Fast forward to 2017, and it is now opening up as a cultural center so tourists can enjoy it as a dance museum.
The woman in charge loves to dance. She shared her nostalgia about her childhood, when her uncle was a dance teacher. She fondly described the village residents gathering together after the sun went down to drink and dance together, blissfully into the moonlight. Her name is Pi Aei, and she currently lives in the building and is very thankful to receive help from Humanitarian Affairs. Not too many people are left in the village to help care for the place, and her only son was recently diagnosed with Dengue Fever. She desperately needs our help.
The delegates were all split into 5 groups: cleaners, designers, recyclers, washers, and painters.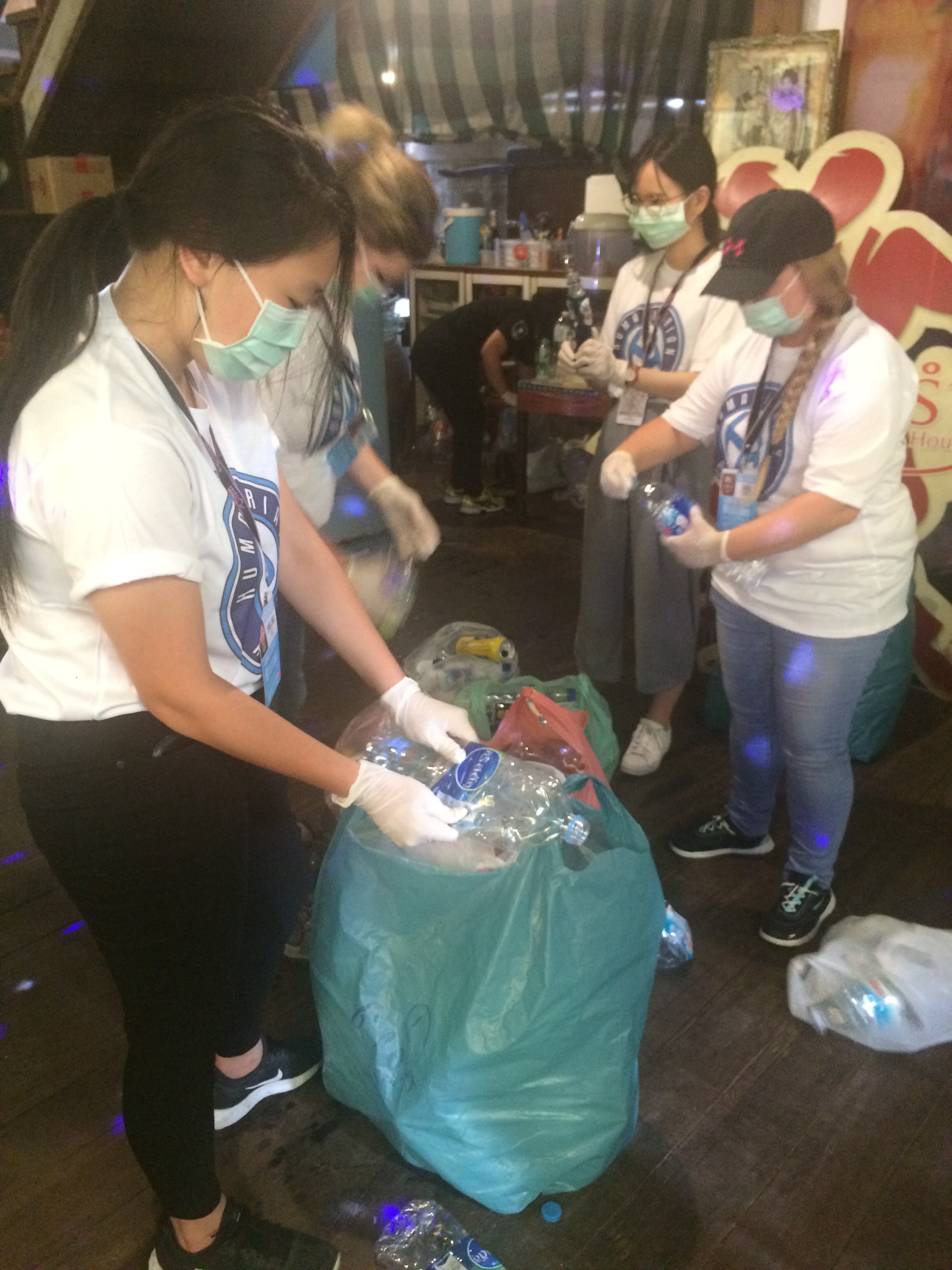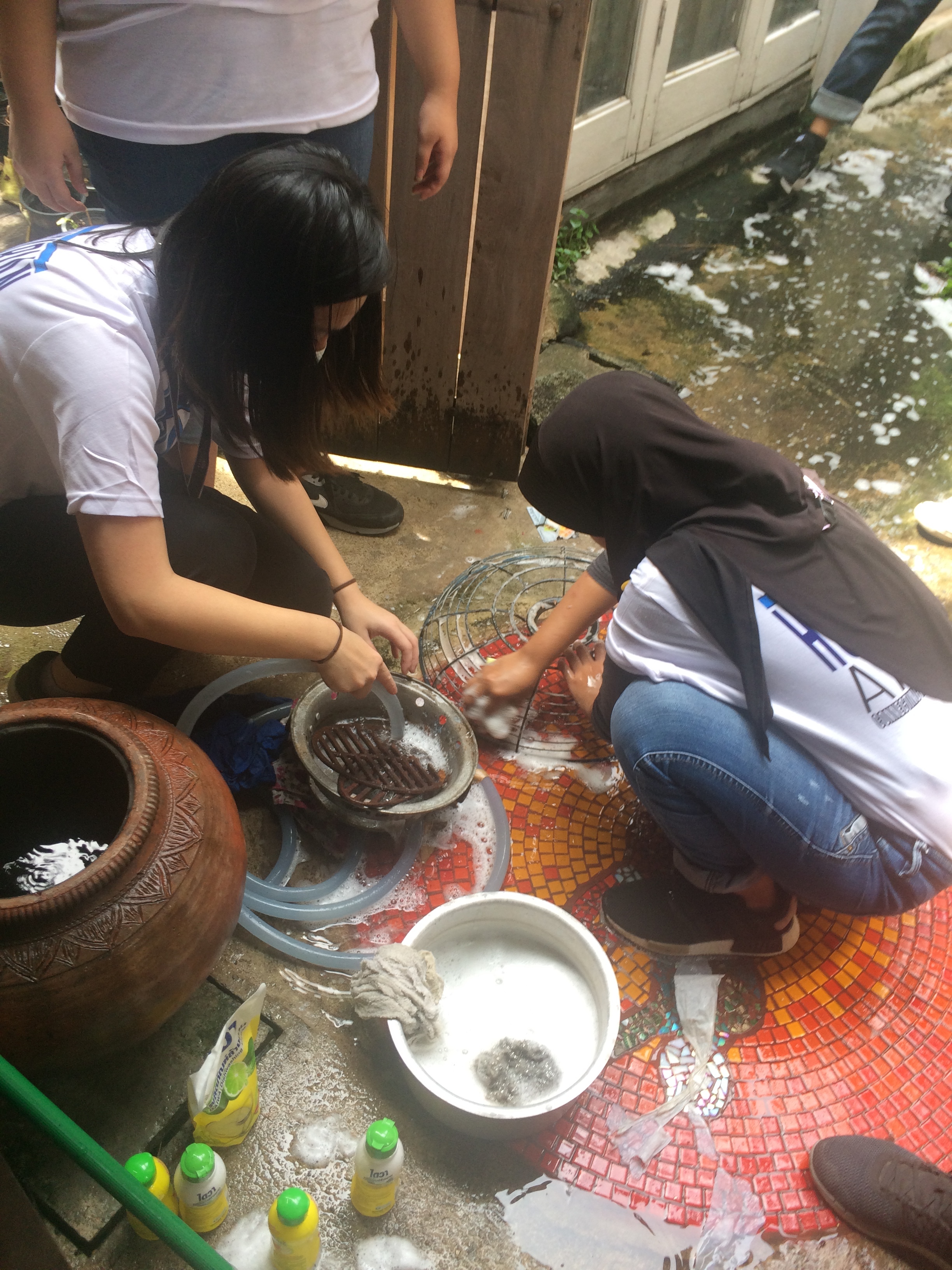 Painters were given the task of spraying and repainting 90 year old chairs, vintage tables, and other wooden artifacts. Pi Aei didn't own paint, so a handful of delegates were told to bicycle to a nearby shop for paint and return to spray the tables and chairs.
Cleaners were assigned to sweep upstairs, scrub lamps, and chip old paint off of wooden tables that could still be used and repainted. There were a few student desks to be kept, and some to be donated to nearby villagers.
Designers were relied on to gather ideas of how the layout could be renovated and items could be reused. They were advised to harness old clothes and broken furniture to combine them and make something aesthetically pleasing. A carpenter who lives in the village agreed to construct their design.
Recyclers were utilized to collect everything that could be recycled. Bottles, cups, paper, and anything else they could find. Collecting and selling recyclable materials is popular in Thailand, and the woman had already created a pile of her own that delegates helped sort.
Last but certainly not least, washers had arguably the toughest task. What distinguished washers from cleaners was the water and soap, which was used to clean window shades, baby toys, and vintage materials to be collected and donated (or reused for the dance hall).
Fun facts:
This dance hall used to be infested with rats the size of large squirrels. Years ago, locals released snakes into the building to kill all the rats. This strategy was very effective, but there was just one problem, no one bothered to trap and collect the snakes afterwards. So, there are still snakes that live in the dance hall, and Pi Aei and her son explained that they had encountered many. Recently her son was sleeping upstairs and saw a snake outside on the balcony near the bedroom door. Their dog was sleeping on the balcony facing the door, and worried about the dog her son screamed. Pi Aei rushed to turn on the lights, but the snake was already gone, so they have nicknamed them "ninja snakes" to help laugh about it rather than worry every evening.

Within the temple village lies a market named "Nangleung" that sells a lot of traditional Thai sweets. This market is historically one of the first markets in Thailand that primarily sold sweets, and it once serviced an ancient river that ran through what is now current day Bangkok. Back then, most villagers sold on the river out of their traditional fishing boats. This market is well over 100 years old. On the edge of the market lies a rugged, brown house. This house is actually the first ever theatre built in Thailand, and it has been there for over 75 years.

Pi Aei did as all Thais do, and treated us with the highest level of hospitality. She took us to the market and bought sweets and drinks for all of the delegates while refusing money from us. We were forced to sit back and watch her pay for our snacks with the little money she had, rejecting us when we offered to purchase any of it.
The painters group discovered that the local store that sells paint was closed, so they went back to the dance hall and joined in on the work the other delegates were tasked with. However, that failure didn't have any effect on the smile branded on Pi Aei's face as she watched the delegates work together. She could visibly see the life rejuvenating back into this once vibrant and lively dance hall. Her dog also seemed unable to withhold a smile, gleeful to have so many visitors again.
 
End Result:
The recyclables that were sorted will be given to an old lady in the village. The old lady will sell the sorted recyclables for money to help buy food for stray cats and dogs that the old lady currently looks after.

The design group conceptual plans gave Pi Aei insight and perspective as to how this place could be renovated. Pi Aei was excited to contact the carpenter in the village who could do the work.

The washers and cleaners brought life back into furniture and vintage products that were once very expensive and valuable, thus value was restored into these objects.

Painters helped carry a lot of old wood and heavy tables from upstairs that Pi Aei wasn't able to move for years. Many of the items will be donated to children. Although she was disappointed we couldn't paint, we were able to show our passion and support in other ways.
 
We all left Pi Aei feeling encouraged and hopeful. Before our help, she was worried about the state of the dance hall. Now she is determined to continue the hard work we were able to accomplish in one day. Opportunity had been restored in this building, and we left her feeling the happiest she'd felt in decades. Not only did we help Pi Aei and her tourism business, but we also helped enable future Thai students who want to learn ballroom dancing as well.
At the end of the long day, we all had the chance to do Thai style ballroom dancing on the clean floor.
"Building Life, Giving Hope." –The theme for the University Scholars Leadership Symposium.